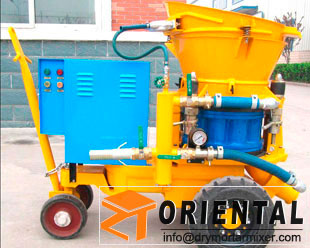 Shotcrete machine (concrete sprayer) uses compressed air to continuously transport the concrete along the pipeline and spray it onto the construction surface. There are two types of dry jet (right) and wet jet. The former is pneumatically transported. The dry mix is ??sprayed out at the nozzle and mixed with the pressurized water; the latter is sprayed by the pneumatic or concrete pump to transport the concrete mixture through the nozzle. It is widely used in underground engineering, wells, tunnels, culverts, etc.
Dry shotcrete machine Features:
1. Adapt to spraying materials: water-soluble materials such as putty powder, paint, latex paint, real stone paint, cement mortar, dry mortar, thermal insulation mortar, waterproof material, fireproof material, heat insulation material, sound absorbing material.
2. Adjust the flow rate to get the best spray results.
3. In addition to the switch on the electric control box, it is also equipped with a remote control switch.
4. The connection between the gun and the feed tube can be rotated for easy operation.
5. High construction efficiency and good quality.
6. Small size, easy to carry on site, and low cost and easy maintenance.
7. Easy to use, fast, save materials, save labor, save money, one machine only has three people, 150 square meters / hour
8. Material ratio (cement) 1:3 mortar.