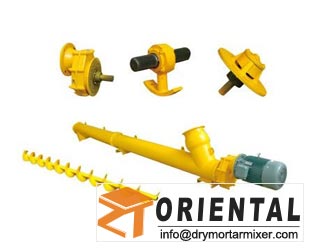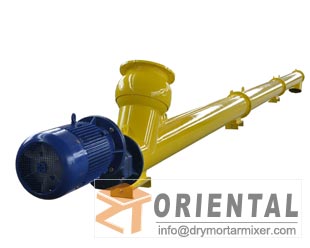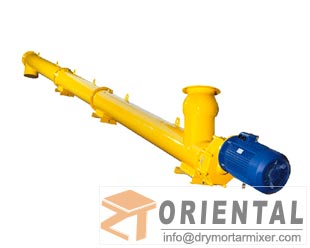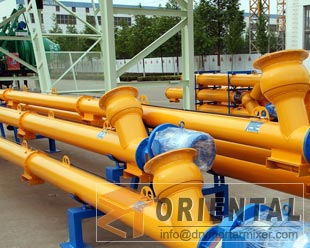 Cement Screw conveyor are used to transfer the cement from big bags and bags to cement silo and cement batchers. Cement screws are manufactured by Oriental in different capacities and diameters by using latest technology. Oriental manufactures 2 different type of cement silos according to application
LSY165

LSY219

LSY273

LSY325

LSY400

165

185

237

285

362

194

219

273

325

402

308

260

200

170

170

Max conveying capacity
(t/h)

25

40

60

90

120

Max conveying length L
(mm)

15

18

25

25

25

0°~60°

0°~60°

0°~60°

0°~60°

0°~60°

L≤9

Y132S-4

Y132M-4

Y160L-6

Y180M-4

Y180M-4

5.5

7.5

11

18.5

18.5

L>9

Y132M-4

Y160M-4

Y180L-6

Y180L-4

Y180L-4

7.5

11

15

22

22
The Cement Screw conveyor are used to transfer the cement from big bags and bags to cement silo and cement batchers. Cement screws are manufactured by Oriental in different capacities and diameters by using latest technology. Oriental manufactures 2 different type of cement silos according to application ; cylindrical type and semi-open type. Oriental cement screws are drived by planetary type gearbox and appropriate engine. Oriental LSY Cement Screw Conveyorwhich have galvanized maintenance covers and special intermediate bearings, also are equipped with central lubrication system. This system is designed to provide operating convenience to our customers and is implemented in all Oriental LSY Screw Conveyor as standart. Oriental cement screws are manufactured at Ø114, Ø165, Ø219, Ø273 ve Ø323 diameters.Semi-open type cement screws are specially designed to use in Oriental MOBILE MASTER-60 mobile concrete batching plants.
Feature of Screw conveyor
The Cement Screw conveyor work is done inside the shell of closed round cross section. Screw conveyor main characteristics are the followings, compact structure, small cross-sectional area, light weight, good seal property, high transportation efficacy, smart technology layout, convenient installation, dismount and move as well as safe operation.
Technology of Screw conveyor
Screw conveyor can complete the work of gathering, distributing, stirring, mixing, dehydrating, customizing materials, unloading and stacking etc. The product is quite suitable for the transportation of bulk cement from cement bin to concrete mixer or to concrete batching machine in the concrete mixing plant.