SKC3016 Robot Arm Concrete Spraying Machine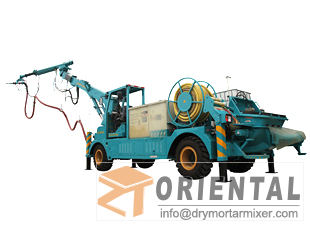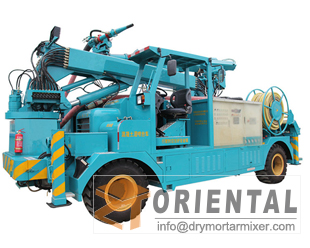 5 reasons for choosing our products
Capacity:30M³/H;
Walk: Wheeled, track;
Drive: Electric, diesel, air-operated ;
Concrete:Size15-25;
Wet mix concrete tunnel;
Hot Sales Concrete Spraying Optional:
SKC40 Concrete spraying machine
SKC30 Concrte spraying machine
SKC25,SKC20,SKC10,Concrete Spraying Machine
Technical Parameters of SKC30 Concrete Robot Shotcrete Machine
NO
Item
Datas
1
Whole Machine
Dimensions
8000×2500×3400mm
Weight
18700kg
2
Boom & Leg
Boom type
Full hydraulic telescopic & rotating spray arm, Wireless remote control operation.
Spray vertical distance
16.5m
Spray horizontal distance
2×14m
Farthest spray distance in front
14.2m
Tunnel Minimum height
4m
Maximum operating depth
8m
Large Main arm rotation angle
270°
large boom pitching angle
-30°~+60°
Small arm rotation angle
270°
small boom pitching angle
-60°~+35°
Axial nozzle rotary angle
360°
Nozzle axial swing Angle
270°
nozzle swipe angle
360° continuous rotation
The front leg span
3000mm
working Drive mode
Normal working for electric motor driving,
diesel driven discharging and cleaning and retractable arm frame
when the electric break down suddenly
Electric motor power
75kW
Voltage
We can offer 440v/50Hz
Arm Working control mode
Wireless remote control operation & stick control
Effective remote control distance
100m
3
Pump system
Rated output
4-30m3/h
System pressure
20Mpa
Max convey output pressure
10Mpa
concrete cylinder inside diameter
Φ180mm
concrete cylinder travel distance
1000mm
maximum particle size
20mm
Feeding height
1300mm
4
Chassis
Tread
1840mm
Wheel base
4220mm
Front and rear axle drive mode
4×4 four-wheel drive
Gradeability
40%
Diesel engine power
93kw
Minimum ground clearance
450mm
Brake form
Full hydraulic four-wheel drive
Type of steering drive
Hydraulic steering
Minimum turning radius
5m
Driving directions
bidirectional driving
Cab
Safety ceiling
5
Additive system
Cable
100m
Air compressor power
75kw
Air compressor output
13m3/h
Air compressor pressure
0.8MPa
Accelerator metering pump
CAM rotor Hose pump
Accelerating adjustment Type
variable frequency motor speed control
Additive output
30-700L/h
Accelerating adjustment precision
±2 L/h
Accelerator delivery pressure
Max: 2MPa
Accelerator box volume capacity
1000L
Introductions Of SKC30 robot arm Concrete Spraying machine
The ORIENTAL – SKC30 robot arm concrete spraying machine is a concrete spraying system specially developed for use in mines, tunnels and outdoor construction.
Working Principle of SKC30 robot arm Concrete Spraying machine
The ORIENTAL – SKC30 robot arm concrete spraying system is equipped with an automatic system for high precision synchronization between concrete pump and the additive dosing unit, thereby assuring spraying accuracy and quality. All the machine functions are available via the remote control, which facillitates the operator's work.
Features Of SKC30 robot arm Concrete Spraying machine
The system has a modular design, and can fit a large verity of applications.
The system consists of a diesel hydrostatic driven carrier and a spraying boom.
The chassis is designed to work in the toughest conditions in line with the requirements of mines, tunnels and outdoor construction. The six wheel drive increase its perfect manoeuvrability in difficult driving situations.