Dry Ready Mix Plaster Machine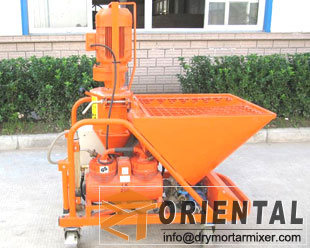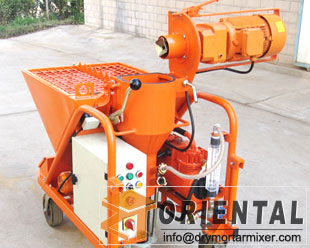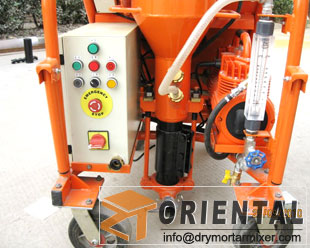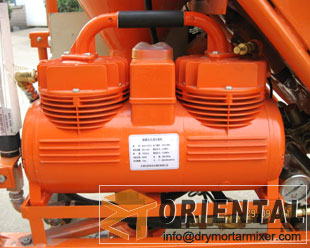 4 reasons for choosing our products
Dry mix or wet mortar plastering machine;
Wet mix dry mix plastering 30L/min, ;
Screw Pump,Hose Pump plasteing machine ;
Mixer mortar;
Hot Sales mortar plastering Optional:
Dry mix mortar plastering machine
Wet mix mortar plastering machine
Hose pump plastering machine
Automatic Rendering plastering machine
| | |
| --- | --- |
| Rated Output | 30 L/min |
| Rated Working Pressure | 3 MPa |
| Total Power | 8.5 kW |
| Main Electric Motor | 3Phase,380volt,5.5 kW |
| Rev.of Rotor | 380 RPM |
| Rated Air Output | 250 L/min |
| Water Pump Rated Output | 700 L/h |
| Max.Conveying Dist. | 50 m |
| Hopper Capacity | 120 L |
| Loading Height | 1000 mm |
| Conveying Hose ID. | 25/32 mm |
| Air Hose ID. | 13 mm |
| Overall Dimension | 1240×680×1550 mm |
| Weight | 280 kg |
Working Principle of Dry Ready-mix Plaster Machine
The dry materials is supplied in sacks and filled into the large hopper.the low height of the OX30 makes filling considerably easier.the materials is then transported by the agitator out of the hopper into the mixing pipe of the machine.the particular geometry of the agitator means the hopper can be emptied almost 100%.in the mixing area.the amount of water appropriate to the materials is supplied .depending on the mortar used.the amount of water can be separately regulated.the integrated water pump ensures the water pressure is always adequate.the mixing area is extremely large.this means the material is perfectly mixed and reaches the rotor/stator pump of the machine in an ideal condition .there it is then pumped at pressure through the mortar hose.the nozzle is connected in the end of mortar hose with compressed air.and then the mixed mortar is sprayed out evenly.the integrated mini compressor ensure the air pressure and consumption always adequate .as well as remote-control by air valve.attention for detail instruction .please follow the operation manual
Features Of Dry Ready-mix Plaster Machine
1.The integrated machine with mixer, self-suck water pump, mini compressor and rotor/stator pump.
2.The continuously mixing and pumping machine.
3.Small and handy dimension and low weight, quickly and easily transport even in the most confined spaces.
4.The rotor/stator pump ensures the material is pumped and sprayed out continuously and evenly.
5.The machine always works with efficiency and silence.
6.With air valve remote-control function.
7.The machine consists of portable units, permitting easy to operate and take maintenance and easy to use in any circumstance.
Application Of Applications
All pumpable dry ready-mixed mortars or materials, such as Cement mortars, Lime plasters, Gy-psum plasters, Masonry mortars, Insulating plasters , Self-leveling floor screeds, etc.