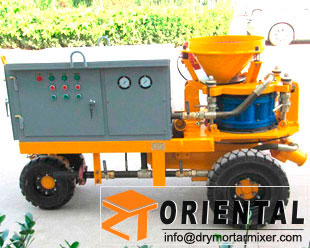 The wet shotcrete machine is an anchor spray support machine with better comprehensive performance such as reducing dust, reducing rebound and saving materials at home and abroad. Currently widely used in mines, culverts, building foundation pit support, river slope protection and other projects.
Wet shotcrete gunite machine features:
Wet spray machine is suitable for rocking, hard soil, sandy soil, barren land, acid soil, arid zone, coastal dam and other places where plant growth is difficult. It is used for highway slope greening and high-speed railway slope greening. , mine greening, ecological restoration, desert management and other projects, can also be used for irrigation, fertilization, spraying pesticides and other daily care and soil improvement work, one-time seed, fertilizer, soil improver, seed binder, moisturizer, Fiber-covered materials, orange stalks, yellow loam, red loam, sandy loam, clay, and some strongly differentiated shale are organically mixed with improved soil, and the slurry material is uniformly sprayed in a large proportion, high concentration and extra-concentration.