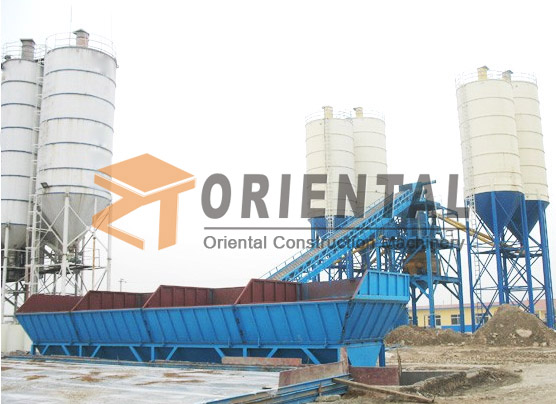 Concrete batching plant consists of batching machine, aggregate conveying system,power conveyor ,accurate water,cement,fly ash weighing ,Excellent mixing .full automatic control and pneumatic control system.  Mixing system adopts domestic famous brand – SICOMA brand double shaft forced mixer or JS series double forced mixer. And the control system of double computers with double controls consists of two industrial computers,
HZS60 Concrete Mixing Plant
Capacity: 60m3/h;
Discharging height: 3800mm;
Max. dragging speed: 40km/h;
After-sale service: Erection & commissioning, operator training;
Warranty: 12 months after erection.
HZS60 RMC Plant
| | | |
| --- | --- | --- |
| Name | Model | Qty |
| Concrete mixer Model & Quantity | YJS1000, | 1 unit |
| Discharging volume | 1000L | |
| Charging volume | 1500L | |
| Mixing cycle | 60s | |
| Max. mixing size | Φ80/60mm | |
| Aggregate mixing machine Model & Quantity | PL2400, | 1 unit |
| Storage bins quantity | 2 or 4 sorts | |
| Aggregate scale hopper | 2400L | |
| Measurement precision | 3750kg, ±2% | |
| Aggregate feeding to mixer by | Special belt conveyor | |
| Weighing system Principle & Quantity | Force sensor, | 1 set |
| Water weighing precision | 360kg, ±1% | |
| Cement weighing precision | 720kg, ±1% | |
| Additive weighing precision | 36kg, ±1% | |
| Control system Type & Quantity | Computer auto control, |  1 set |
| PLC brand | SIEMENS/ SCHNEIDER | |
| Computer with control software | | 1 unit |
| Control panel board | Buttons, lights, meters, etc | |
| Electric components | Relays, contactors, etc | |
| Air conditioner | Optional parts | 1 unit, |
| Printer brand | OKI/PANASONIC/EPSON | |
| Industrial monitor system | Optional parts | |
| Uninterrupted Power Supply (U.P.S) | | 1 unit |
| Control cabin Size & Quantity | ≈4m2, | 1 unit |
| Dragging chassis | | 1 set |
| Drag steering | | 1 unit |
| Back axle & shock absorption | | 1 set |
| Back tyres | | 1 set |
| Adjustable framework | | 1 set |
| High | pressure air system Quantity | 1 set |
| Air compressor | 0.6MPa | |
| Oil | water separator | 1 set |
| Solenoid valve | | 1 set |
| Documentation | | 1 set |
| Spare Parts | | 1 set |
| Operation Guide | | 1 unit |
| Maintenance Guide | | 1 unit |
| Electrical Diagram | 1 unit | |
| Cement storage and feeding system | Optional parts | |
| Cement silo capacity | 50t/60t/80t/100t | |
| Screw conveyor diameter | Φ219mm/Φ273mm | |
| | | | | |
| --- | --- | --- | --- | --- |
| Cement silo | Screw Conveyor | concrete batching machine | Concrete mixer | Control cabinet |