Diesel engine Concrete Wet-Dry Mix Shotcrete Machine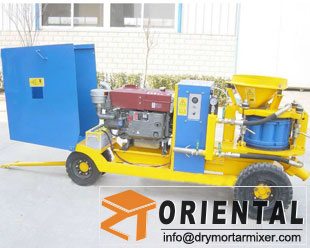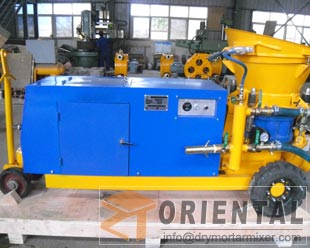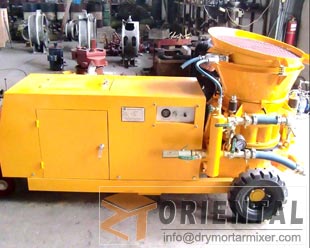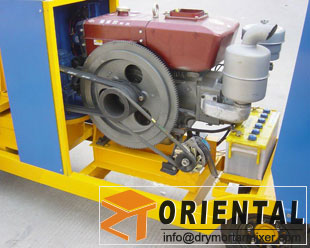 5 reasons for choosing our products
• Dry mix or wet concrete shotcrete machine;
• 3 CUB/H,5 CUB/H,9 CUB/H,10-30 CUB/H ;
• Drive: Electric, diesel, air-operated ;
• General or anti-explosion;
• Different wheels;
Hot Sales Concrete Spraying Optional:
√ Dry and wet mix shotcrete machine
√ Dry mix shotcrete , Wet mix shotcrete
√ Concrete Spraying Convey pump
Model
OPZ-3
OPZ-5
OPZ-9
Output
3m3/h
5.5m3/h
9m3/h
Max.conv.dist
200 m
200 m
150 m
Water cement ratio
<0.4
<0.4
<0.35
Max.Aggregate.size
10 mm
15 mm
20 mm
Hose inner size
φ42/50 mm
φ50 mm
φ64 mm
Operating air pressure
0.2-0.6 MPa
0.2-0.6 MPa
0.2-0.6 MPa
Air consumption
13-14m3/min
15-16m3/min
17-18m3/min
Motor power
3 kW(4hp)
5.5 kW(7.5hp)
7.5 kW(10hp)
Dimension
1130x1020x540mm
1350x1020x750mm
1500x1320x830mm
Weight
520kg
780kg
980kg
Basic chassis
①.Tyre ②.Skid ③.Rail-wheel
Driving Type
Diesel engine drive
Introduction Of Wet-Dry Mix Shotcrete Machine
Wet-Mix Shotcrete Machine is used for dry mix or wet mix concrete spraying procession, Wet-Mix Shotcrete Machine is widely employed in mining, tunnel lining, channel lining, culvert, subway, seismic rehab, specialty projects, hydropower engineering, etc.
Shotcrete machines Part:
Shotcrete Machine steel lining,shotcrete under sealing plate,shotcrete upper sealing plate,rotor,ubber chamber,taper sleeve,rubber elbow,shotcrete conveying hose,shotcrete Nozzle,quick coupling,joint,nozzle boss,swirler,gearboxes,distributor,tyre
Working Principle of Wet-Dry Mix Shotcrete Machine
With "wet-process shotcrete" a low-slump concrete mix is pumped with a Concrete Pump to the end of the pipeline. conveys the pre-dampened mix by compressed air. the pre-concrete is mixed firstly . and then putted into shotcrete machine. This compressed air typically comes from a 165-185cfm air compressor – sold separately. The addition of the compressed air adds velocity to the concrete so it sprays out of the nozzle. This velocity, combined with the low slump of the shotcrete mix, allows the concrete to be sprayed on slopes, vertical walls, and overhead .
Applications Of Wet-Dry Mix Shotcrete Machine
1.Shotcrete for Civil Underground Foundation , Express-Way Construction, Railway Construction;
2. Shotcrete for building surface;
3. Shotcrete for Tunneling , Mining ,Hydropower Project;
4. Shotcrete for Slope Stabilization
Features Of Wet-Dry Mix Shotcrete Machine
• electric drive can be combined with tyre chassis.
• Air motor drive or diesel drive combined with single hydraulic power pack.
• Skid or Rail-wheel