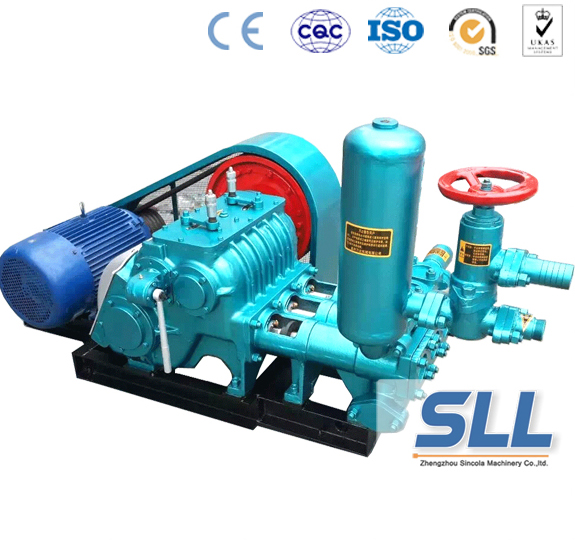 BW250 three-cylinder grouting pump, also known as BW250 mud pump, BW250 grouting machine, is a horizontal three-cylinder reciprocating single-acting piston pump with two cylinder diameters and four-speed variables. The large cylinder liner is used for 1000-meter large-diameter drilling rigs. The cylinder liner is used for 1500m small diameter drilling rigs. BW250 three-cylinder grouting pump is mainly used for conveying mud with core drilling rig. It can also be used for other aspects such as grouting, mine sewage and long-distance water supply.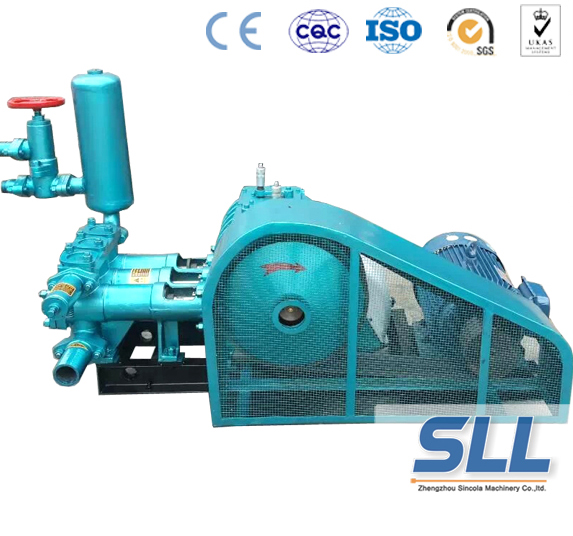 BW250 three-cylinder grouting pump performance characteristics
1. It has the four-speed flow that can meet the needs of large and small caliber drilling rigs. The flow adjustment range is large and the parameters are reasonable. Can be used with XY-4 core drilling rig and XY-5 drilling rig. It can meet the needs of different calibers, different hole depths and different geological core drilling.
2. The grouting pump piston is a self-sealing S-type polyurethane rubber piston with a bowl shape and a nylon backrest, which greatly improves the service life.
3. There are five dust seals on the pull rod to prevent the mud at the hydraulic end from being brought into the power end and the power end lubricating oil filter. After many production tests, the seal is reliable and the performance is good. Causes the gear to extend its service life.
4. The inlet and outlet valves adopt steel balls, and a sound-reducing rubber pad is arranged on the valve cover to reduce impact noise.
5. The grouting pump pressure gauge adopts BY-1 type seismic pressure gauge and has a long service life.
6, compact structure, beautiful appearance.
7, detachable, easy to repair and relocate.